Dentists
Dr. Edmund Wong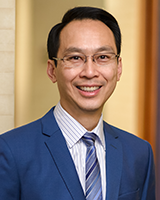 Dr. Ed Wong, General Dentist, graduated from the Faculty of Dentistry at The University of British Columbia in 1993. His many years of experience and additional training have given him the opportunity to provide a wide variety of services for his patients. Dr. Wong is your White Rock dentist committed to providing quality dentistry and has a passion for making a positive impact on peoples lives. He still calls every patient to follow up after visits to see how their experience was.
Dr. Wong is not only a multi-instrumentalist when it comes to dental technologies! He can play multiple musical instruments as well. He has performed live in several cities with numerous bands, mainly as a drummer.
---
Dr. Norina Leung
Dr. Norina Leung, General Dentist, was born and raised in Edmonton, Alberta where she graduated from the Faculty of Dentistry. Afterwards, she completed a one-year residency affiliated with Vancouver General Hospital where she received extensive additional training in a variety of specialties. Dr. Leung's decision to undertake a residency exemplifies her continual motivation to learn and her commitment to providing her patients with safe quality treatment.
Dr. Leung loves to paint, hike, and travel.
---
Dr. Hedayat Gorjestani
Dr. Heda earned his first DDS in 2000 in Iran and has upgraded his knowledge and experience in endodontics (root canal therapy) by attending a three-year course in 2003. In 2017, Dr.Heda fulfilled his Canadian Dental Equivalency process and achieved his board certification as a general dentist in Canada. Immediately he commenced volunteering as a dentist at Vancouver Downtown East Side Clinic. He has about 15 years of experience in general dentistry with outstanding ability to treat complicated root canal treatment and surgeries. He looks forward to meeting you and take care of all your dental needs.
---
Dr. Priya Jagadish
Dr. Priya Jagadish, a general dentist from India earned her Doctor of Dental Surgery (DDS) in 1999. She moved to White Rock, BC in 2015. She completed her NDEB equivalency process in 2017 to become your White Rock dentist, and is a certified General Dentist in the province of British Columbia. She has been practicing the art & science of Dentistry for over 15 years, including running her own practice back in India. Dr. Priya is an Invisalign provider and is certified to perform Implants. Dr. Priya continues to build and foster relationships with patients of all ages with one important goal in mind – "to help them achieve healthy smiles". She is committed to excellence in every aspect of dentistry and actively seeks to further her knowledge and skills by participating in various continuing education courses and conferences.
Outside of dentistry, Dr. Priya enjoys quality time with her family and friends. She loves to explore local hiking trails, yoga, swimming, music, cooking and travelling.
---
Dental Professional Staff
Robin, Administrator
Charlene, Hygienist
Charlene graduated from the Dental Hygiene program at Vancouver Community College.  Her many years of dental hygiene experience in private practices is clearly demonstrated by her extensive abilities and easy manner.  Since she joined your White Rock dentist here at South Point Dental, Charlene has established a loyal following of clients that appreciate her gentle touch, attention to detail and respectful approach to patient education.
Amy, Hygienist
Amy graduated in 2009 from the Dental Hygiene Program at Vancouver College of Dental Hygiene. She is passionate in providing thorough dental hygiene care that meets every patient's individual needs. Addressing patient concerns, accommodating patient needs and providing patient feedback all to help improve their oral cavity and sense of well-being. She is proud to be working with your White Rock dentist here at South Point Dental, a state of the art office that treats its patients with utmost care. Outside of work, she enjoys spending time with her family, her puppy Bella, listening to music and kickboxing.
Ruby, Hygienist
Samantha, CDA
Rachel, CDA
Jacquie, CDA
Shayna, CDA
Sheena, Receptionist