We know that it can be scary or hard to find time to see the dentist, and that a little encouragement or incentive can go a long way. So, we occasionally offer promotions, as does our community dentist network, 123 Dentist, in order to make it easy to choose dental health.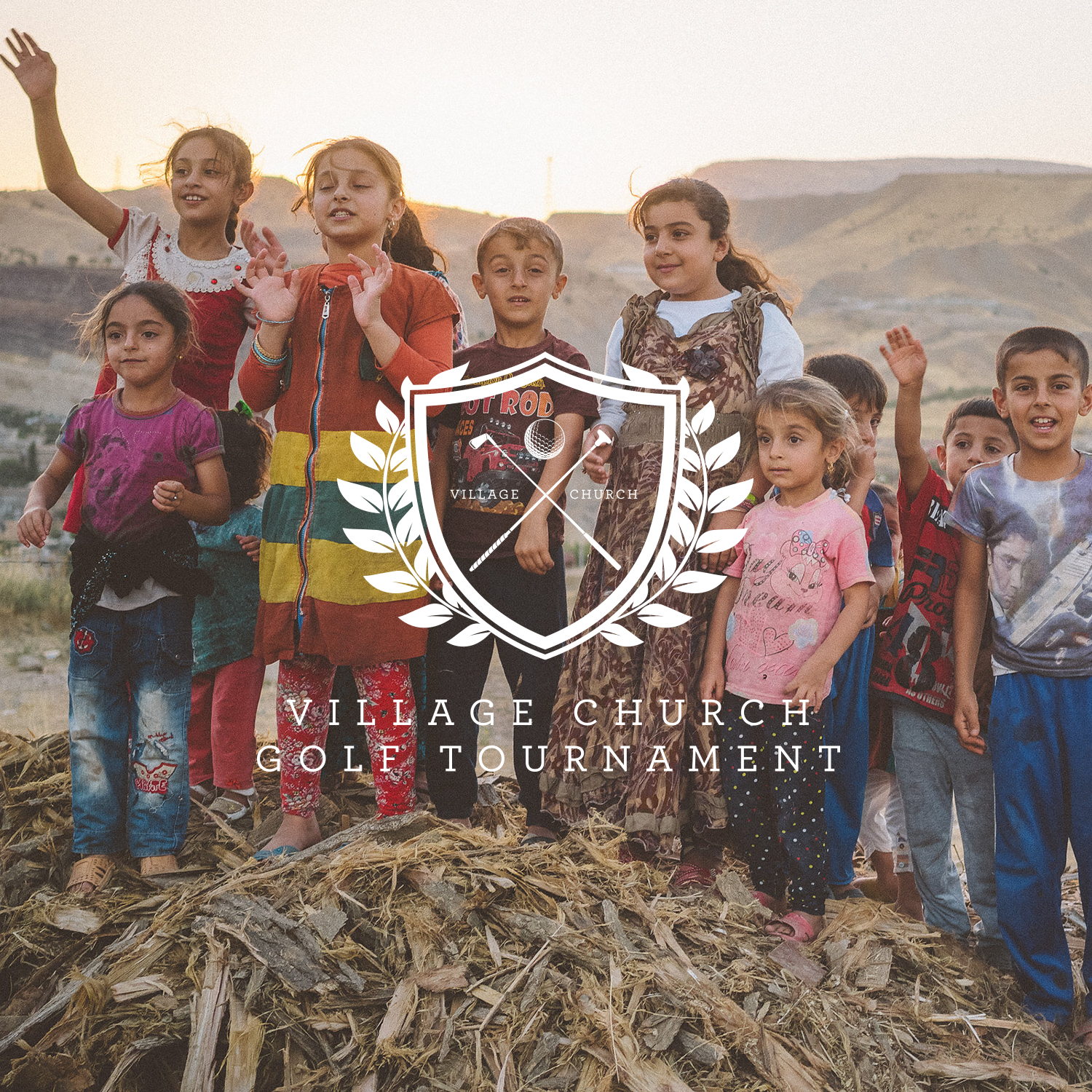 We're Proud Sponsors Of The Village Church Golf Tournament, Helping Women & Girls Who Have Been Abused By ISIS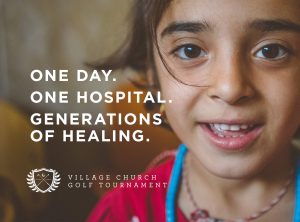 Village Church partners with Love Does annually and fundraises through the Village Church Golf Tournament to build a hospital in Iraq and bring care and restoration to women and girls who have been abused by ISIS. The Golf Tournament will be held August 31, 2017, but there are other ways to get involved without actually golfing in the event. An Event Auction will also be held where people can place bids on auction items.
Visit the Village Church website for more information on the event and how to get involved. If you would like to check out the items for auction and place any bids, check out the event auction website.
We are so happy to be a part of this great cause again this year.
---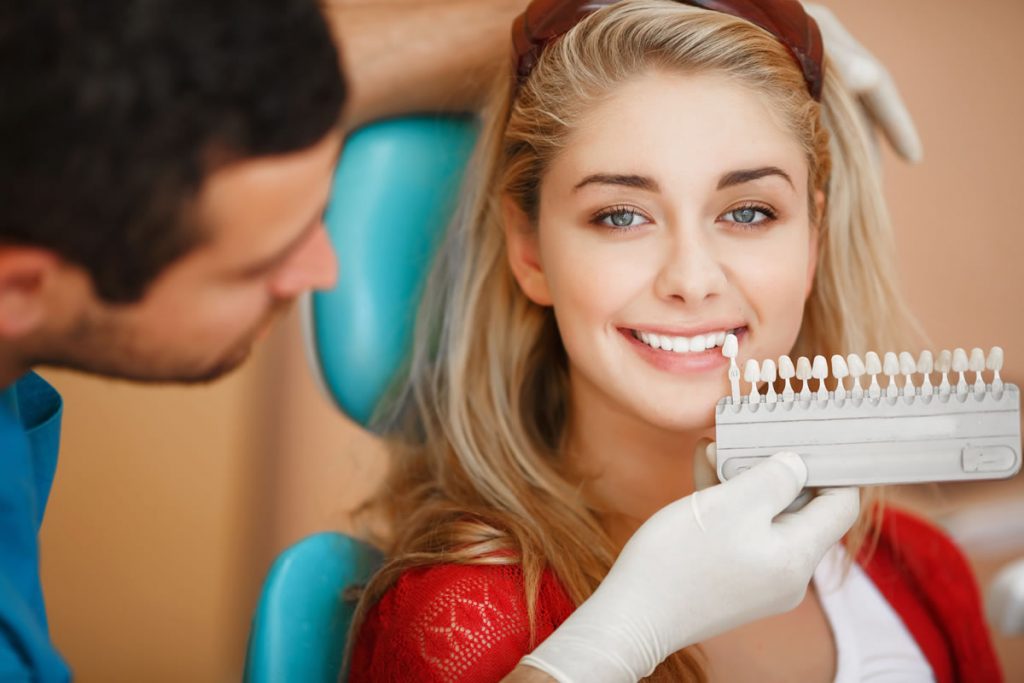 Summer Is A Great Time To Whiten Your Smile
If you are already preparing for school starting in September, why not invest a little extra in your smile too?
If you drink certain fluids like wine, coffee or dyed sodas on a regular basis, or if you smoke, staining is bound to occur. A beautiful white smile can give you the confidence you need to power through the new school year.
In Office Whitening
We use the Pola Office+ tooth whitening system in our office to safely whiten the discolourations in the enamel of your teeth. One of the best advantages of this method is time. Patients see immediate results, brightening teeth in one visit. Another great advantage is reduced sensitivity. No separate desensitizer is required. Pola Office+ has unique built-in desensitizing properties that inhibit sensitivity during or after your whitening treatment.
Take Home Whitening
If you prefer to do your whitening from the comfort of your home, we also provide take home trays as an option. For the best results, it's important to use take home whitening trays properly and as advised by your dentist.
Get ready to go back to school with in office or take home whitening!
Please contact our clinic at (604) 535-8880 to schedule an appointment, or use our online request form.
---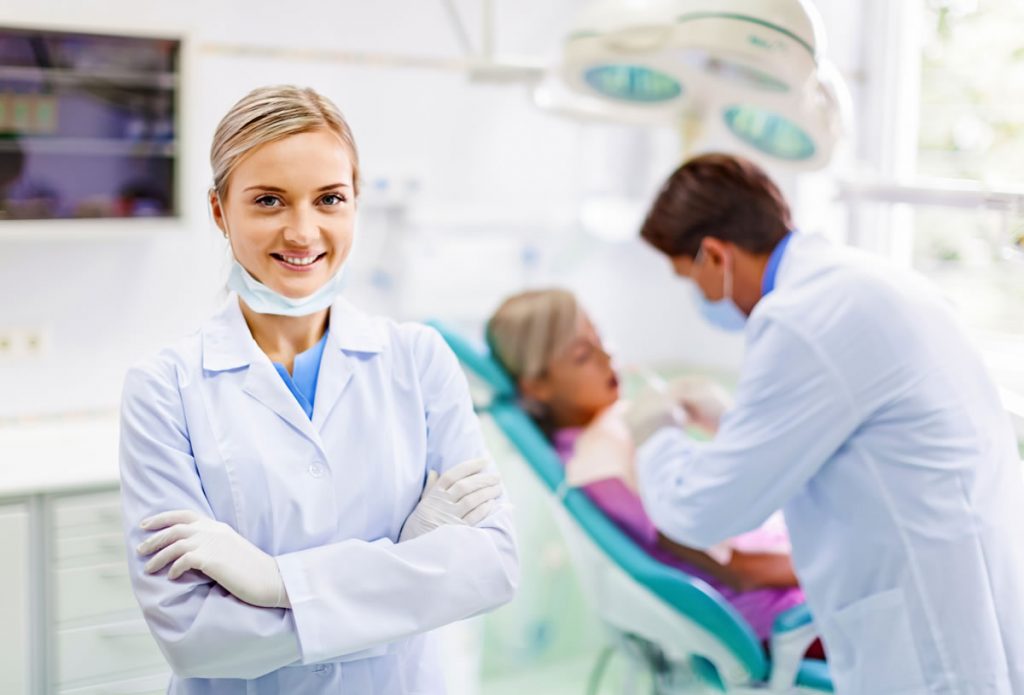 Have You Ever Tried Sedation Dentistry?
If you've ever been nervous about getting dental work done, sedation dentistry could be the right solution.
Sedation dentistry is very safe and pain free. We offer conscious oral sedation at our clinic so you can relax & put your mind at ease.
A candidate for sedation dentistry is someone who has:
High fear
Traumatic dental experiences
Difficulty getting numb
A bad gag reflex
Very sensitive teeth
Complex dental problems
Limited time to complete dental care
Conscious oral sedation is when you take a prescribed medication orally. You will feel time passing without any pain or discomfort, and be very relaxed during your visit. You can use oral sedation for any kind of dental treatment. If you have any questions about oral sedation, feel free to contact us, we will be happy to talk to you.
South Point Dental is experienced in administrating sedation dentistry to help patients have a comfortable experience. Contact us for a sedation consultation today!
---
Did You Have A Good Experience With Us?
Please Review Us On Google, Facebook Or Yelp!
We would love your help to reach more people online. If you could leave us a review we would really appreciate it! Just follow these simple steps: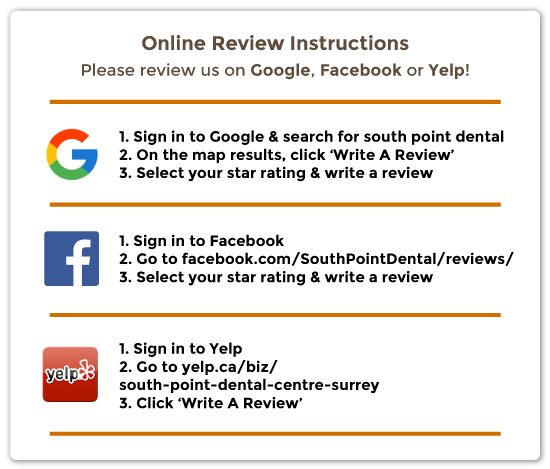 Contact us if you have any questions or inquiries!  604-535-8880. We have Mandarin and Cantonese speaking dentists.